Events
& Activities
20.11.2020.
BRAVE WOMEN IN THE WORLD
Hungarian novelist Noémi Kiss will speak this evening about her life and works as part of Brave Women in the World, a series of events organized by the Stuttgart City Library. Kiss's most recent book, Balaton, was published in 2020 by Magvető Publishing House and was an immediate success. Kiss has written about where she finds inspiration:
"My stories feature cities and slightly eccentric figures, barren landscapes, and unfamiliar Eastern European places, including places I have seen and learned about and places I can only imagine but will never see, yet somehow they seem believable. I love extreme adventures and emotional challenges, and interestingly enough, that's exactly what my narrators like too. I like to explore the ways in which others are unusual, first just to have something to write about. But unfortunately, I'm the type who easily falls in love, and when I'm done, I find myself falling in love with one or two of my characters."
The program is being held with the support of the Petőfi Literary Fund.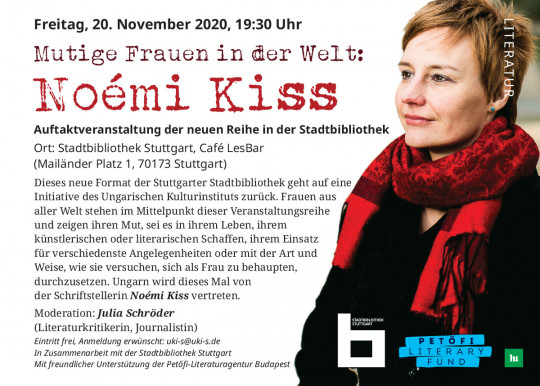 16.10.2020.
FOR THE YOUNG HUNGARIAN LITERATURE
Anita Harag won the prestigious Margó Prize in 2020, which is awarded to the best author making his/her debut as a novelist in Hungary. On the 16th of October, literature enthusiasts in the city of Stuttgart were able to meet Harag in person when she presented her award-winning book, Évszakhoz képest hűvösebb (Magvető, 2019), or A Bit Cold For This Time of Year. The event, A fiatal magyar irodalomért - Für die junge ungarische Literatur was held with support from the Petőfi Literary Fund at Ungarisches Kulturinstitut in Stuttgart.